Welcome! Let's crush your lactation goals.
Hi, I'm Bri the IBCLC aka expert in lactation. I started Breezy Babies with you in mind. Yes, you in the throws of morning sickness or baby spit up.
If you're looking for more confidence in your lactation journey, you're in the right place.
Our team of IBCLC's is ready to help smooth out the transition from pregnancy to 4th trimester, no matter your zip code.
We make your journey a breeze when it comes to all things boobs, babies and breastfeeding. It's what we do.
We can't wait to work with you, whether it's meeting in-person or over secure video, or with our digital downloads. Let's do this.
Testimonials
Even though I'm still a couple of months away from returning to work, I knew I needed to go ahead and get the plan so I could feel more confident. Knowing ahead of time that I have the answers and knowledge to make pumping at work feasible makes me feel like I can enjoy these two months much more because I'm not worrying! Thank you for sending me my personal pumping plan so quickly!!

(Personalized Pumping Plan)

Sara Heflin
Bri is amazing and so knowledgeable! I am grateful for her coming to my home and helping me along in my breastfeeding journey as a first time mama. I was pleasantly surprised by how thorough her assessment and recommendations were. Bonus: you can tell she truly loves what she does! I would highly recommend Bri to anyone looking for help with any lactation needs. It can definitely be a tough journey and having the right support makes all the difference.

Crystal T. (Google Review)
Bri is wonderful! We had two telehealth consults and she also created a personalized pumping plan for me. Both were tremendously helpful. I was really struggling to figure out if I was pumping enough and the stress was reducing my supply further. After talking with Bri and utilizing the tips from the pumping plan I was able to get to the point of having an ounce left over each day…at the end of the week I get to add the extra to my freezer stash! I would highly recommend Bri to anyone in need of a lactation consultant.

Angela S (Google Review)
I loved that it was a mutual thing between mom and baby- not just mom TO baby. I loved that you ask baby for permission and were constantly engaging with them. And that it is 100% appropriate to stop when they have had enough. I liked that you were encouraged to find the time, place, environment, strokes that felt right between you and baby- it's not just a blanket one thing fits all approach.

(Baby Massage)

Shay H.
I have loved being able to have another way to promote bonding with my big kids. I'm excited to have the additional knowledge to help when my baby arrives and see the differences it makes from the beginning.

(Baby Massage)

Jodi C.
I am so excited for my pumping plan! I am actually returning to work at a later date so I just starting with pumping in the mornings after our first feeding!  I can't wait to build my stash (: I love how you break down all of the times and sessions while at work, it's going to make it so much easier knowing how many times I should pump! You're awesome!! 

(Personalized Pumping Plan)

Morgann S
With my first child being 11 weeks early I needed a lot of help nursing and realized the variety of IBCLC's and some not giving the best advice. Fast forward five years, my midwife recommended I follow Brianne and I loved her content! She has very trustworthy information and I'm thankful to be able to achieve my goals with her help! Very gifted!

Breanna C (Google Review)
Alexis was awesome! She arrived to my house prepared knowing all the information I previously provided, and she was happy to answer all the questions I had. She helped me breastfeed my baby during her visit and made sure that he had a good latch. As a first time mom, Im happy I had her help.

Marsha M (Google Review)
Thank you for this! I have been using and reading it all the past few days to see if I have any follow-up questions but I don't. You cover allll the information so well. As I am heading back to work, I realized this was one of my biggest anxieties. Thank you for having a resource like this especially to support first-time moms like me. Thank you

(Personalized Pumping Plan)

Tenneil C.
Make your 4th Trimester Breezy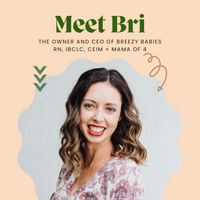 Meet the team
Bri is mom of 4 located near Farmington, Utah. She started Breezy Babies in 2020 after working in lactation private practice for years.
Bri specializes in gut health, pumping plans for returning to work and baby massage.
Her team of IBCLC's is growing to provide you with the best service and availability! The Breezy Babies IBCLC's travel for in-home consults plus they provide telehealth (secure video) consultations with families ALL over the world!
When Bri's not working, she's probably cleaning her house, going to the gym or dreaming of her next vacation.
Get help with Bri
Your Utah based IBCLC
Holly has been a Registered Nurse since 2005 and an IBCLC Internationally Board Certified Lactation Consultant since 2017.
Holly specializes in oral restriction assessments, efficient pumping, and provides inclusive, nonjudgemental care.
She has been with the Breezy Babies team since 2022 for both in-home and telehealth consults. Holly is located in Kaysville Utah and travels a 30-minute radius from there.
She also meets with families all over the world via telehealth.
Get help with Holly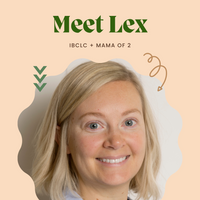 Your Utah based IBCLC
Lex is a mom of 2 and also a hospital IBCLC.
Lex specializes in looking at the whole picture and making sure mom and baby are finding joy in their feeding choices.
She has been with the Breezy Babies team since 2022 for both in-home and telehealth consults. Lex is located in Clinton Utah and travels a 30-minute radius from there.
She also meets with families all over the world via telehealth.
Get help with Lex
Your Iowa based IBCLC
Kellie is a mom of (almost) 2. She's also a hospital IBCLC.
Kellie specializes in latch assessment, pumping plans, and meeting families where they are in their feeding journey
She has been with the Breezy Babies team since 2023 for both in-home and telehealth consults. Kellie is located in Des Moines Iowa and travels a 30-minute radius from there.
She also meets with families all over the world via telehealth.
Get help with Kellie
Scan with your phone camera to check for FREE lactation consults.
Lactation care should NOT be a luxury...
Your satisfaction is important!
Breezy Babies stands behind our products and services.
Lactation Services: Payment in full is due before your consultation unless you have already been approved through Lactation Network. For a full refund (Self- Pay), cancellations must be made more than 24 hours in advance. Appointments that are less than 24 hours out must be rescheduled. No shows for both Self-Pay and Lactation Network approved consultations will be charged a $50 non-refundable fee. 
Downloads (Webinars): Due to the nature of downloadable digital items, refunds are not generally given. If you change your mind about the purchase and have not yet downloaded our product, a refund may be given at your request. Refunds issued after download will be given consideration by the author on a case by case basis and issued at the author's discretion. Refund requests must be made with fifteen (15) days of purchase.